Commercial CPA Roofs in the Greater Twin Cities Area
Co-Polymer Alloy Roofing Contractor – Serving the Greater Twin Cities Area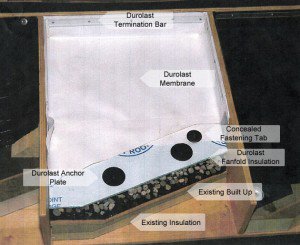 Co-Polymer Alloy (CPA) roofing is comprised of a single layer of white, reinforced membrane, 40-50 mils thick, typically mechanically attached to the building with plates and screws. No gravel is installed over the membrane, which provides 86% reflectivity of UV radiation.
The seams of the CPA roof system are welded together, not glued, providing a monolithic membrane upon completion. Its flexibility in re-roofing applications without tearing off the existing roof system has made it a popular choice with building owners.
CPA Benefits
High puncture resistance for a single ply
Extremely lightweight
86% UV reflectivity—Energy Star rated
Significant labor savings in not tearing off old roof
Resistant to chemicals and animal fats
No exclusion for accumulating water
Warranties do not exclude consequential damages
Odor-free insulation
CPA Drawbacks
Material & products are expensive
Installation over concrete is difficult
Very slippery when wet
We offer both commercial roofing and residential roofing services. For more information please contact us.
We Have You Covered
Fully Insured
Bill Insurance For You
24/7 Emergency Services
Over 80 Years of Experience
MN Builder Contractor Lic # 4229
Residential & Commercial Services